VOLLEYBALL CAMPS
Sports of All Sorts offer opportunities for players to receive valuable instruction
on the fundamental skills of volleyball. Campers will be made aware of the characteristics that define successful players. Organized games between campers will provide a competitive outlet after specific drills have been practiced. Contests built into drills capture the learner's attention, which results in attentive practice.
Drill progressions will be aimed towards recognizing and developing good habits in all aspects of the game. General courtesy, respect for teammates and opponents and the importance of hard work will be taught to the campers through example by the camp staff.
Volleyball camp hosted by Skyhawks Training Academy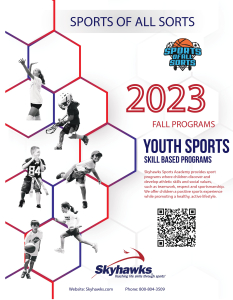 Skyhawks Volleyball takes the energy and excitement of this great team sport and puts it all together into one fun-filled camp. All aspects of the game are taught through drills and exercises that focus on passing, setting, hitting and serving. This co-ed program is designed for the beginner to intermediate player and will incorporate essential life-lessons such as teamwork and sportsmanship. Our volleyball staff will assist each athlete in developing the fundamental skills of the game through game-based drills and daily scrimmages aimed at developing the whole player.
Dates: 8/31 – 9/21 & 10/5 – 10/26
Days: Thursday's
Time: 5:30 p.m. – 7:30 p.m.
Age: 7 yrs. to 12 yrs.
August – September Course ID: SSA159989
&
October Course ID: SSA159992
Price: $125.00
Sports of All Sorts
Sports of All Sorts
10094 Investment Way
Florence, KY 41042
---
MORE CAMPS AND TRAINING COMING SOON!!!