SKYHAWKS FALL & WINTER CAMPS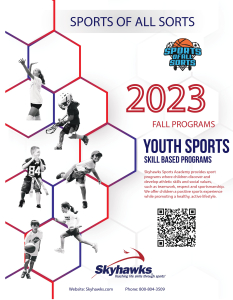 When:
Dates: 8/30/23 – 9/20/23 & 10/4/23 – 10/25/23
Days: WEDNESDAY'S
Time: 5:30 P.M. – 7:30 P.M. EST
Age: 6 yrs. to 12 yrs.
Cost: $125
Where:
Sports of All Sorts
Sports of All Sorts
10094 Investment Way
Florence, KY 41042
August – September Course ID: SSA159993
&
October Course ID: SSA159994
Description
Using our progressional curriculum and focusing on the whole player, we teach your child the skills they need for both on and off the court to be a better athlete. Our sport specific staff will focus on respect, teamwork and responsibility as they will start each day with a 'skill of the day', and progress into drills and games making for an unforgettable camp experience for your young athlete. After a week of passing, shooting, dribbling and rebounding you will see why this is one of our most popular programs.
This camp is perfect for the beginning to intermediate basketball player.
Lunch, snack & water bottle (for programs over four hours), two snacks & water bottle (for programs four hours or less)
‍Gear to Bring:
Appropriate clothing, water bottle, basketball shoes, (or comfortable athletic shoes)
MORE CAMPS COMING SOON!!!!