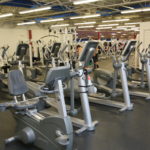 Our fitness area includes a variety of state-of-the-art resistance training equipment including: free weights, selectorized machines and functional fitness training equipment in addition to cardiovascular equipment for all fitness levels.
Our fitness staff is available to instruct you in proper use of the equipment, spot you in the weight room and answer any questions that you may have anytime you're here.
Our trainers hold degrees in exercise science, physical education, kinesiology, sports management, exercise physiology and related areas of study. They are also recognized by the industry's top certifying bodies.
Personal fitness goals are the primary concern of the fitness department. Our staff will help facilitate the process of achieving the ultimate in health and wellness for an improved quality of life. We are available to answer questions and plan a variety of enjoyable programs to accommodate specific needs and schedules.
Orientation
A degreed fitness specialist will review your health history and work with you to establish realistic short-term and long term goals. A personalized fitness program will be designed for you based on your goals, exercise preferences, current fitness level and guidelines established by the American College of Sports Medicine. A fitness specialist will review the components of your program, orient you to the exercise equipment and lead you through your first session.
Membership Requirements
Month to Month Membership: no contract length. An automatic deduction from a checking, savings, Visa or MasterCard is required with a month to month membership. You may also pay for your membership in cash for three month in advance.
All Inclusive Family Membership: Requires a signed contract. An automatic deduction from a checking, savings, Visa or MasterCard is required with a one year membership. You may also pay for your membership in full at the time of registration. This is a 1 year contract and must be renewed each year.
Types of Memberships
Family Anyone in the same household who is claimed on your previous tax information.
Children must be under 25 years of age.
Couple: Any two people living in the same household.
Single: Any person 18 years of age or older.
Senior Single: Any person 65 years of age or older.
Senior Couple: Any two people living in the same household 65 years of age or older.
All Inclusive Family: OUR BEST VALUE, it combines our Fitness Center and our youth association and provides the
following to you and your family
– FREE REC BASKETBALL LEAGUE REGISTRATION
– FREE REC VOLLEYBALL LEAGUE REGISTRATION
– FREE REC BOWLING FOR LEAGUES AND OPEN BOWLING
– FREE ADMISSION TO ALL GAMES
– FREE OPEN GYM
– FREE BOWLING
– 2 FREE BIRTHDAY PARTIES PER YEAR
– FAMILY HEALTH CLUB MEMBERSHIP
– PLUS MANY OTHER GREAT DISCOUNTS!!!
If you are interested in learning more about Sports of All Sorts, we would be delighted to give you a tour of the facilities as well as provide you with fee schedules, group fitness schedule and an application for membership by contacting a Fitness Staff member.
Membership Amenities
Complete Fitness Center
Complete Cardio Areas (elliptical machines, treadmills, bikes, stair stepper machines, circuit machines, free weights, etc.) Functional fitness training area including plyo boxes, bosu balls, TRX, Kettleballs, bands and more.
Circuit Training Program
Offering a complete line of both Nautilus and Hammer Strength machines
Free Weights From 5 lbs to 120 lbs.
Powerhouse Room Take on our battle ropes, speed bag, punching bag, kettlebells and medicine balls.
FREE Group Exercise Classes
Silver Sneakers Class & Yoga
Senior Strength
Senior fit
Barre
Dance Fit
Boot Camp
Plus many more classes. Check the class schedule for current days/times.
P.E. Fit Home School Physical Education classes are taught by a certified physical education teacher and personal trainer. The classes are designed to provide fun, safe, and effective movement and activities for children ages 6 to 18 years who may not otherwise have ample opportunities for physical activity. The classes include basic exercises and physical fitness as well as sports such as basketball, soccer and pickleball. Classes are held on Friday mornings at 10am.
Youth Fitness Ages 12-15
We provide a Youth Fitness Orientations specifically designed for adolescents between the ages of 12 and 15. We also have trainers who excel in the area of youth sports performance who can work with your teenagers to enhance and develop speed, agility, strength and conditioning.
Walkfit
Come in and walk the courts anytime in the mornings beginning at 5:30am. Moms and Dads are allowed and encouraged to walk with strollers, provided wheels are clean.
Pickleball Pickleball is played in our facility 5 days a week. A net is set up daily for open play 5:30am – 4:00pm. Come on in Tuesdays and Thursdays from 8am – 10am to receive instructions and learn about this great, fun game that is sweeping the nation.
Sports
Basketball Leagues & Program discounts (FREE for All Inclusive Membership)
Volleyball leagues & Programs discounts (FREE for All Inclusive Membership)
Bowling (FREE for All Inclusive Membership)
Seasonal Camps discounts
Sports Performance and Conditioning Programs
Open Gym
Programs
Personal Training
Boot Camp
Silver Sneakers
Youth Performance Training
Bridal Boot Camp
12-week "Be Well" Wellness Program
Nutritional Consultations, including grocery shopping tips and recipes
Pickleball
Seasonal Programs
Quarterly Parties and Events geared to our Active Older Adult Population
Home School PE
Membership Specials
Our Fitness Center offers specials throughout the year in order to help kick start your fitness "NEW YOU" program.
Designed to help promote and keep you on the road to a healthier lifestyle.