2023 Soccer Camps
Skyhawks Fall Soccer Camp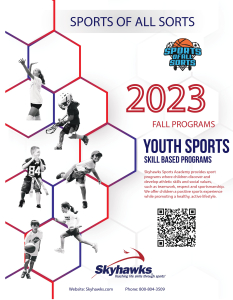 Hosted by Skyhawks Training Academy
Skyhawks was founded as a soccer club in 1979. Thirty years later we are still the number one choice for parents looking to Refine their child's fundamentals of the world's most popular sport. Using our progressional curriculum, our sport-specific staff will ensure your young athlete will gain the technical skills & sport knowledge required for their next step into soccer. This camp focuses on dribbling, passing, shooting, and ball control. By the end of the camp your child will have learned new life skills such as teamwork and sportsmanship, made new friends and improved their sport skills preparing them to play for the playground or league play!
Dates: 8/29 – 9/19 & 10/3/23 – 10/24/23
Days: TUESDAY'S
Time: 5:30 – 7:30
Age: 5 yrs. to 11 yrs.
August – September Course ID: SSA159988
&
October Course ID: SSA159991
Price: $125.00
Location:
Sports of All Sorts
Ockerman Middle School
8300 us 42
Florence, KY 41042

lil Strikers Learn to Play Soccer Class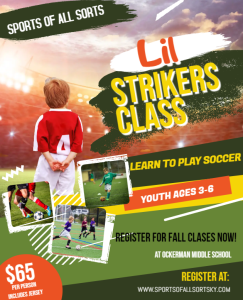 MORE CAMPS COMING SOON!!!!